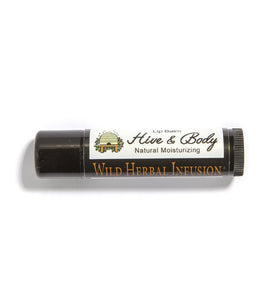 Lip Balm, Wild Herbal Infusion
Our Wild Herbal Infusion Lip Balm feels silky smooth on your lips - and taste great too!
The best quality organic ingredients are used to create this soothing and moisturizing care to keep your lips healthy. There are no toxic chemicals used in this (or any) Hive & Body Product! All organic, all natural, and perfectly safe to digest!

Our Lip Balm is packed with wholesome ingredients: coconut oil*, beeswax, shea butter*, jojoba oil*, cocoa butter*, wildflower honey, propolis*, and a variety of essential oils*.
*Certified organic

Wild Herbal Infusion is packed with fragrant herbs: black and purple sage, sage brush, mugwort, rosemary, lavender, eucalyptus, bay leaf, and nettle leaf.
Choose from four luscious flavors: lavender, lemongrass, mint citrus, wild herbal infusion
---
We Also Recommend
---