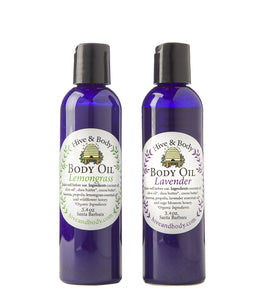 Body Oil, Duo Pack
Indulge yourself with Hive & Body's luscious all natural Body Oil - - a smooth blend of fragrant organic ingredients including beeswax, honey, propolis, and essential oils. Made in Santa Barbara, California, for use all over the body. It will keep your skin moisturized and smelling good from head to toe.
Our lavender scent is one of our most popular. In addition to the wonderful aroma, this scent is known to have anti-bacterial benefits and helps with relaxation.  Plus it has a variety of other healing properties you can read about here.
The refreshing sweet citrusy scent of our lemongrass product line is sure to become one of your favorites.  A native plant from Southeast Asia, lemongrass is reputed to inhibit microbial growth. Its scent is reported to uplift the spirits. You can read the other healing properties of lemongrass here.
---
We Also Recommend
---